Background: "Completely unplayable" – gamers are complaining about serious issues in The Witcher 3 after patch 4.01Recently for nextgen version The Witcher 3 released patch 4.01, which should improve performance, but it didn't go as planned. Gamers massively began to complain that after the update, the FPS in the game has noticeably decreased. Youtubers decided to check if this is so, and published videos with tests.
In the first video, the game was launched on a PC with an AMD Ryzen 5 5600x processor, an NVIDIA RTX 3070 graphics card and 32 GB of 3600 MHz RAM. It turned out that the performance was really less compared to the previous patch. This mainly happens after disabling ray tracing. In some scenes, the frequency dropped by about 30% (from 100 to 64 FPS).
It is noteworthy that when ray tracing is enabled, the problem is not observed. At least that's according to another video where the game was tested on a PC with an Intel Core i7-10700F processor, an NVIDIA RTX 4080 graphics card and 16 GB of RAM. In some scenes there is an increase of about 8 FPS.
Be that as it may, CD Projekt RED is most likely already working on resolving technical issues.🥰 The Pyramid Head we all deserve
Source: VG Times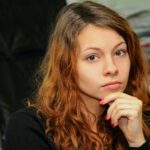 Christina Moncayo is a contributing writer for "Social Bites". Her focus is on the gaming industry and she provides in-depth coverage of the latest news and trends in the world of gaming.