Studio Emerald City Games has announced the imminent release of a free-to-play mobile action roguelike with a top view Tomb Raider reloaded. The release will take place on February 14, Lara Croft's birthday. The game will be available on Android and iOS.
In Tomb Raider Reloaded, players as Lara must clear procedurally generated levels (caves, jungles, waterfalls, and more). You must avoid traps, find relics, solve puzzles and fight bosses. Of the opponents there are wolves, snakes, golems and even elemental creatures. For completing levels, they give coins and experience points, for which you can upgrade clothes and weapons, increasing damage and health bar.
All Tomb Raider Reloaded screenshots can be viewed here.
In development, we recall, is a full-fledged new part of Tomb Raider. The game has no title or release date. It is only known that it was created on UE5.
Previously, a fan updated the first Tomb Raider 1996.😓 Hackers leaked 44.7 GB source code for Yandex services
Source: VG Times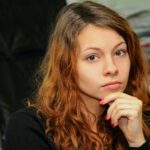 Christina Moncayo is a contributing writer for "Social Bites". Her focus is on the gaming industry and she provides in-depth coverage of the latest news and trends in the world of gaming.