Before the new year, many cosplayers hold festive photo shoots. They turn to the images of their favorite heroines and dress them in Christmas costumes. In this article, we have collected the latest cosplay, which is dedicated to the New Year 2023.
Harley Quinn from Torie's DC Comics
The vast majority of New Year's photo sets are fan service. We have one of the few exceptions. Torie's image is based on the official image of Miss Quinn from the official comic. You can see the original below. We dedicated a large article to Harley herself.
Cosplay:
original:
Photographer – Milligan.
2B from NieR Automata by Lada Lumos
Lada turned to the image of 2B more often than to any other heroine. In December, the girl dressed her beloved android in a Santa Claus costume. I wonder if those robots Do NieR Automata that try to imitate humans also celebrate the New Year?
Cosplay:
original:
Photographer – Diana.
Are you going to watch NieR Automata anime?
Black cat from Marvel comics by Alena Sysueva
Alena often returns to cat images from comics, cartoons and video games. This month she decided to make a New Year's version of the talented thief Felicia Hardy. We devoted a separate article to Alena herself.
Cosplay:
original:
Photographer – Murzik.
Lara Croft from Anya Ichios's Tomb Raider series
A few years ago, Anya had two photo sets in the image of the classic Lara from the games of the 90s. This year, the girl returned to the role of the Tomb Raider. If you are not interested in fan service, but in canonical Miss Croft cosplay, pay attention to our selection.
Cosplay:
original:
Cosplay compilations
Great cosplay on Judy Alvarez from Cyberpunk 2077 performed by beauties from Russia and not only
Best cosplay on A2 of Nier: Automata by leggy beauties from Russia
Excellent cosplay on Elvira from beauties from Russia and not only
Canonical and fan service cosplay on Ada Wong from the most beautiful Russian women
Incredible Black Cat cosplay from the most beautiful girls from Russia and beyond
The best cosplay on Rain from the Bloodrayne dilogy of the most beautiful girls from Russia
Hottest Catwoman cosplay in leather suits and lingerie
TOP: best 2B cosplay from Nier Automata: from character comics to erotic bondage
Hot cosplay of Jessica Rabbit from Who Framed Roger Rabbit. Seductive beauties in red dresses, peignoirs and lingerie
Harley Quinn from Tniwe's DC Comics
If Torie was doing canonical work on Harley, then Tniwe's photos are 100% fan service. The girl has a spectacular figure and does not hesitate to show it in cosplay works. We talked about her and other leggy beauties in a separate collection.
Cosplay:
original:
Lina from Dota 2 by Lady Melamori
In the world Dota 2 Lina is a sorceress who masterfully masters the magic of fire. She was played by Lady Melamori. Granted, from the clothes to her only red underwear…
Cosplay:
original:
Milina from Envy's Mortal Kombat X
Is Christmas celebrated in Outworld? We do not know. As planned by Envy, Milina decided to celebrate the New Year. And the imperial crown seems to be the best gift for Shao Kahn's adopted daughter. Note that the image is based on concept art Mortal Kombat X. She looked different in the game.
Cosplay:
original:
Lara Croft from Anna Shakhovskaya's Tomb Raider series
Before us is an image from the game Tomb Raider Chronicles. There we saw Lara in a long evening dress. At the same time, cosplayer Anna Shakhovskaya externally achieved a resemblance to Angelina Jolie, who played Miss Croft in the first two films. You'll see more photos of this set in our next weekly pick. We dedicated a separate article to Anna herself and conducted a video interview with her.
Cosplay:
original:
Photographer – Andrey Modey.
Hermione from Alice01's Harry Potter movies
Alice Romanova, better known as Alice01, made a cosplay of Hermione, known from the series "Harry Potter" (Harry Potter). The girl did not undress her heroine, but simply showed her in a strict uniform and cute pajamas.
Cosplay:
original:
Photographer – Scarlet.
Aqua from the anime series It's a Wonderful World! by Zhenya Zhuk
"This Wonderful World!" (Konosuba) is a comedy novel series adapted into an anime series. It tells the story of a teenager named Kazuma Sato, who died and ended up in an alternate world, similar to a video game. There he meets a cute girl, Aqua. The cosplay was done by Zhenya Zhuk. You can find other works of this beauty in the article, which is exclusively dedicated to her.
Cosplay:
original:
Which look did you like the most?
Source: VG Times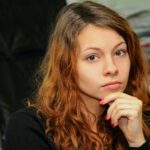 Christina Moncayo is a contributing writer for "Social Bites". Her focus is on the gaming industry and she provides in-depth coverage of the latest news and trends in the world of gaming.