Popular sandbox Minecraft is and remains the most popular game in Russia. This follows from a recent infographic by Andreas Sundell, a senior lecturer in the Department of Political Science at the University of Gothenburg in Sweden.
Minecraft first gained popularity in the Russian Federation in August 2016, although then it lost the title of the most popular game several times. World of Warcraft in particular has been popular for a long time.
Minecraft itself was released in November 2011, since then the game has received a number of official updates, as well as a large number of fan modifications. Among them, for example, we notice a mod that adds mechanics Doom Eternal.🤔 Henry Cavill was dropped from the role of The Witcher for toxic behavior and addiction to games, according to an insider DeuxMoi.
Source: VG Times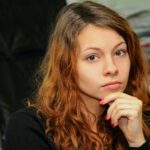 Christina Moncayo is a contributing writer for "Social Bites". Her focus is on the gaming industry and she provides in-depth coverage of the latest news and trends in the world of gaming.