Gearbox and Hopoo Games have announced a remaster of the iconic action roguelike with platform elements Risk of rain. The improved version of the game will delight gamers with many new features.
The developers note that many details of the project have been reworked in Risk of Rain Returns. They promise new playstyles, unique loot, new survivors (each one has alternate skills), an updated multiplayer mode, adjusted balance, chips that players love Risk of rain 2 and more. The graphics have also been updated.
"The iconic roguelike game Risk of Rain is back – we've redesigned it to be even bigger and better"– said the authors of the studio Hopoo Games.
All Risk of Rain Returns screenshots can be viewed here.
Recall that the original Risk of Rain was released in 2013. The project received nearly 20,000 reviews, of which 93% were positive.
During the passage, gamers will have to fight various enemies (including bosses) on a mysterious planet. Players must activate ancient teleports and travel through ten biomes before reaching their ship.
Risk of Rain Returns is scheduled for release in 2023 for Steam and Nintendo Switch.
Source: VG Times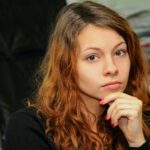 Christina Moncayo is a contributing writer for "Social Bites". Her focus is on the gaming industry and she provides in-depth coverage of the latest news and trends in the world of gaming.