For over a decade gamers have been using Minecraft to implement various ideas. For example, a gamer nicknamed AccentDesign built such an impressive city in the game that even his computer could not stand it. Work on the project lasted more than a year.
In the published video, you can see with the naked eye how the game slows down and freezes. However, the result was apparently worth it. The built city looks extremely realistic and detailed.
To fill the game with realistic graphics, the author used several modifications, including Ambient Blocks, Optifine and Amberstone Foliage.
The gamer noted that he will continue to develop the map and supplement it with new details. You can download the work here.
Recall that previously another enthusiast recreated the universe with a black hole, galaxies and the pillars of creation in Minecraft.😱 New STALKER 2 gameplay from The Game Awards – two whole seconds!
Source: VG Times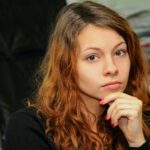 Christina Moncayo is a contributing writer for "Social Bites". Her focus is on the gaming industry and she provides in-depth coverage of the latest news and trends in the world of gaming.