country textile
Country Textile is a local brand from Kostroma, created by designer Victoria Arkhipova in 2018. The workshop sews clothes by hand from natural materials such as linen, nettle, muslin, hemp fabric, and the buttons are made from recycled coconut shells. All loose clothing such as flowy dresses and skirts, long kimonos, bulky shirts, quilted sweatshirts and shorts.
close
one hundred%
The brand has an offline store in Kostroma and recently opened a pop-up store in Moscow on Patrik's Ponds.
The bestsellers of the brand are a doll dress for 6 thousand rubles, a shirt with flounced sleeves for 5 thousand rubles, a linen shirt and shorts for 5.5 thousand rubles, quilted kimonos with a hood for 13 thousand rubles.
Greka
Cherepovets designer clothes brand was founded in 2014. Evgenia Zhukova, co-founder of Grecha, says that the brand currently focuses on sewing dresses, but plans to launch outerwear lines, especially coats, in the future. The brand calls its clothing prices affordable – and that's not far from the truth by today's standards. For example, T-shirts in basic colors can be bought for 1.8 thousand rubles, plus-size classic knee-length trench coats for 13.2 thousand rubles, the price of cotton sweatshirts starts from 4 thousand rubles.
close
one hundred%
Grecha clothes can be bought in stores in Moscow and Minsk and ordered online.
According to Yevgenia Zhukova, customers often buy dresses with dragonflies, skirts with artichokes and whales, ruffled shirts and embroidered oak leaves.
Purpose Clo
"We study design in Milan to create clothes in Novosibirsk," they write in the "About Us" section of the Aim Clo website. The regional brand sews concise clothes. The women's line includes vests and dresses, shirts and blouses, coats and jackets, trousers and shorts, cardigans and suits, as well as everything that can be found in mass market stores.
The bestsellers of Novosibirsk Aim Clo are sweaters. Now with the advent of heat they can be purchased at a discount. For example, a loose-fitting blue sweater polo sells for 3.5 thousand rubles, a loose-fitting beige sweater for 4.3 thousand rubles, a dusty pink cropped cardigan for the same price.
close
one hundred%
Products consist of semi-natural materials (merino wool, cotton, linen), semi-artificial materials (acrylic, polyamide). In other words, according to the brand, the product retains its original appearance longer.
siamese siamese
In 2012, Lada Tomilova released the first collection of the Yekaterinburg brand Siam Siam. Over the course of ten years, the brand has grown into four offline stores (two in Yekaterinburg, Moscow and Tyumen). It all started with shuttle bags from Bangkok and now the brand produces a full range of clothing: bodysuits, pants, coats, sweaters, dresses, sweatshirts etc.
close
one hundred%
The brand's products cannot be called classic: each product has either slits or an unusual print or cut. Prices are above average, for example, a denim skirt will cost 6 thousand rubles, a shirt 6.4 thousand rubles, a hoodie 8.5 thousand rubles. Siam Siam also has black corsets, which are very relevant right now.
burlo
Kirov brand Burlo is clothes for every day. The brand has a wide range of knitted cotton suits for every day. Fleece hoodies and joggers are available in gray and green, brushed beige and unfilled blue, pink and neon yellow. Classic black suit models are also offered. A jacket made of plain wool will cost 13 thousand rubles, and trousers with trousers made of the same material – almost 9 thousand rubles.
close
one hundred%
At Burlo next winter, look for down jackets with a belted silhouette, raincoats with patch pockets or warm raincoats with a hood. Woolen hats and scarves now cost between 3 and 4 thousand rubles each. respectively. No discount yet, but most likely after the seasonal collection change.
"Workshop linen"
In 2016, designer Larisa Gorkova from Omsk sewed the first linen dress with hand printing, and then sewed products for her friends and decided to create her own brand, Linen Workshop. Now the assortment of the Omsk brand includes not only dresses, but also skirts, trousers, shirts, linen tops, which you can order according to your own criteria. The site offers to choose the color, size, length of the top and lining (if more than 75 cm you will have to pay extra) and pocket options. For example, the starting price for skirts is 4 thousand rubles.
close
one hundred%
Tops with shoulder straps are sewn according to the same criteria and cost 2,4 thousand rubles, shorts with code pieces 3 thousand rubles, shawl shirts and dresses from 5 thousand rubles, pants with elastic and tassels 3.5 thousand rubles The brand's lookbook provides styling options for objects.
Purchasing basic clothing under the sanctions has become a real challenge for women who want to continue to dress stylishly. socialbites.ca made a selection of local brands from regions that few people know yet.

Source: Gazeta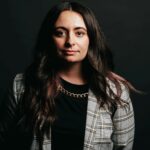 Barbara Dickson is a seasoned writer for "Social Bites". She keeps readers informed on the latest news and trends, providing in-depth coverage and analysis on a variety of topics.