Actress Chulpan Khamatova told in an interview with the YouTube channel RusDelfi how people from Europe differ from residents of Russia.
"Of course, [люди в Европе более спокойные, меньше грубят в магазинах]. Because, for example, it has a habit of letting the car pass when you ask yourself to let go. They won't be in such a hurry that God forbid, you're the first to enter now. But this is also a lost feature. For example, a few years ago in Moscow it was impossible to imagine people letting each other or pedestrians pass. Then the laws changed, became stricter and people got used to it, for them this is the norm. And somewhere in the provinces, it's not quite the norm yet," he said.
At the same time, answering a journalist's question about the difference between "a Russian living in Europe and a Russian living in Russia", the actress admitted that she "does not like such categories at all":
"I love the categories of human dignity, inner beauty, kindness, compassion, conscience, honor. Maybe a Russian who lives in a European country and does not have European qualities has not assimilated European culture. Or maybe a Russian who has never been to Europe, a teacher from the countryside but full of European culture."
Shortly after the start of special operations, Khamatova left Russia for Latvia.

Source: Gazeta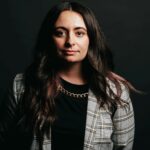 Barbara Dickson is a seasoned writer for "Social Bites". She keeps readers informed on the latest news and trends, providing in-depth coverage and analysis on a variety of topics.