Everything is laughter until we want to print a digital photograph and we ask ourselves the famous question what photo sizes used for printing?
Digital photography has also brought with it a lack of knowledge about the bases of photography in general, in the past we worried about the sensitivity of the film, we knew what the standard print sizes were or if we liked photos in matte or gloss.
In this article you will find:
This means that every time someone wants to take a photo on paper, they ask themselves questions about the dimensions it should have or worry about if there will be cut out areas in the photo because it is not adjusted to the size of the paper. If you are going to print at home with your printer or you are going to take the photos to a laboratory, I hope this article will help you.
Standard photo size for printing
The standard size to print any photo It is 10 x 15 centimeters y equals 4 × 6 inches.
You don't have to keep reading the article, this was the big question you had. The photos of a lifetime that we put in the albums are of that measurement and most of the standard-size frames on the market are manufactured for this measurement or the equivalents of the table below. If you want to learn how to resize the photo to fit that size, keep reading. Although the cameras are configured to take photos at a size compatible with the traditional standard measurement, so your photos will be perfect when you develop them in the store.
Do you remember that there was another size a little larger than the standard? That size was 13 × 18 cm and it is proportional to the previous one, so you don't have to worry, your photos will still look good when you print them on paper. As long as you have not changed the original size of the file.
If you need to develop in other sizes, I leave you a table with the most used measurements when printing photos. With this table and the steps below to resize photos in Photoshop To fit them to the print size, you will have no problem printing them.
More measures used:
| 9×13 | 10×14 | 10×15 | 11×15 | 11×17 | 13×17 | 13×18 |
| --- | --- | --- | --- | --- | --- | --- |
| 13×20 | 15×20 | 18×24 | 18×26 | 20×25 | 20×27 | 20×30 |
| 22×30 | 24×30 | 30×40 | 30×45 | | | |
Photo paper standard sizes
Although you do not have to learn this, you may find some stores or want to buy photo paper and the size is marked in inches. In Europe you will normally find it in centimeters, an inch is equivalent to 2.54 cm so you will only have to do a calculation to convert it to centimeters, but if you are one of those who need a calculator, I leave you a table with the standard measurements of the paper of photo-rounded in cm that are used to reveal:
| Inches | 3,5″ | 4″ | 4,5″ | 5″ | 8″ | 12″ |
| --- | --- | --- | --- | --- | --- | --- |
| Size in cm | 9 cm | 10 cm | 11 cm | 13 cm | 20 cm | 30 cm |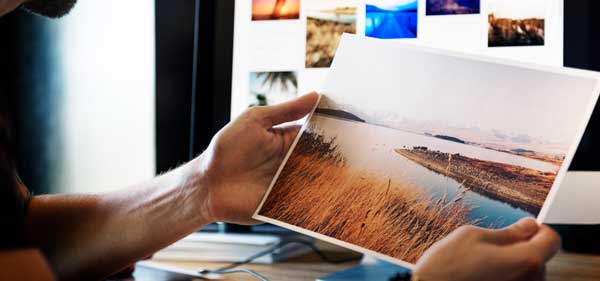 Digital formats for standard development
10×13 cm (95×127 mm)
11×15 cm (114 x 152 mm)
13×17 cm (127 x 169 mm)
15×20 cm (152 x 203 mm)
20×27 cm (203 x 270 mm)
Sizes for square photos
13×13 cm (127 x 127 mm)
20×20 cm (203 x 203 mm)
Photo sizes for poster
30 x 45 cm (305 x 457 mm)
30 x 40 cm (305 x 406 mm)
40 x 60 cm (405 x 609 mm)
40 x 55 cm (406 x 540 mm)
76 x 115 cm (762 x 1143 mm)
76 x 100 cm (762 x 1016 mm)
But if the developing store or the size of the photographic paper only gives us one measurement, which side does it correspond to? Height or width? To understand this you must know the aspect ratio in photography.
Aspect ratio in photography or ratio
The aspect ratio is the ratio of the height to the width. Depending on the aspect ratio of your file, the final print will have some measurements or others. A format of 10 cm for example refers to its shortest side and to find out its longest side we will have to look at the aspect ratio of the file.
As a general rule Current cameras generate files with 4: 3 ratio (the width is equivalent to 3 thirds of the length) although this can be changed in the camera options, it is best to leave it in that aspect ratio so as not to have problems when printing the images. If the standard aspect ratio is 4: 3 and the format we want to print is 10 cm, the size will be 10 x 13.3 cm, in the case of a 2: 3 aspect ratio the dimensions of the image will be 10 x 15 cm.
Formerly a 3: 2 ratio was used.
How I know calculate aspect ratio? Easily explained in a 4: 3 ratio 4 divided by 3 equals 1.33. If we continue with the example of a 10 cm photo, it is multiplied by 1.33 and gives a final size of 10 × 13.3 cm.
It is recommended if you have modified your photo to add text or something similar, that the most important elements are away from the edges in case the photo needs to be cut something because the size is not adequate for the chosen paper.
Resize photos for printing
To resize the photos we are going to use Photoshop, although any other photo editing program will do. It is very easy, just follow the steps and you will have your photo ready to print as you have chosen.
If you need to adjust it to a certain aspect ratio for example to convert a panoramic photo to square format, simply open the «Crop tool»Or press its C key shortcut.

At the top of the screen you will see a drop-down menu that allows you to choose the width, height, proportion or various standard looks. If you want a square photo, choose the 1: 1 aspect or select the option «Proportion»From the drop-down and fill in the two boxes on the right with 1: 1 or whatever other aspect you want to use, 16: 9, 3: 2, 4: 3, and so on.
Once the proportion is chosen, you will simply have to move the box that appears to the position that you like the most, leaving the important parts of the photograph inside the box (you can follow the tutorial on the rule of thirds in photography to choose where to cut an image).
Now save your photo and it will be ready to print, this way you will make sure that the store that is going to develop your photos does not cut where it seems to them.
Here are some related articles that may interest you:
Best Android Apps to Edit Photos
Photo size for Facebook 2021
How to photograph pets
Create a photography website
How to use curves in Photoshop
Compact cameras 2021
Make videos with photos