Pablo Ruz, mayor of Elche, should listen when given advice and do even more if the advice is good. It even comes from the opposition. At the extraordinary general assembly session this Tuesday, which seemed empty, meaningless and meaningless waste of public purse PSOE spokesman Héctor Díez (it is true that the expenses are less than in previous posts because the majority now have a comfortable salary until 2027) urged him to devote himself to ordinary things like Elche's rather than business affairs. As he called them, it was nothing more than reaching a vote whose outcome was known before it even began.
There would be a thoughtful discussion on issues such as the immunity of those convicted by Procés (and those who will continue to be convicted) and criminal sanctions, similar to the television bombardments we have been experiencing for days. forgiveness Catalonia's millionaire debt and who pays for it, or for a series of whims which the parties represented in the Lower House demand in single file, in return for giving their votes to Pedro Sánchez in all negotiations to form a Government in Spain? Throughout democracy. Although it is also possible that he summoned him as an exercise in Spanish self-affirmation, it is certainly I don't think this is necessary at this stage..
symptom
However Tuesday's events are still confirmation of a symptom: A significant number of municipal groups present initiatives that have little or nothing to do with Elche in plenary sessions (which should be the time to discuss the city). It's as if talking about the city seems small to them and they want to focus on more important issues, which causes them to bore both the audience and the journalists more than the sheep, which I would say are at the same level. number of participants live, consultants aside, because there are so many more of them.
People don't listen to you, they don't come to you, they don't watch you on TV because they aren't interested in what you have to say, haven't you figured it out yet?
It's rife with things that start to become worrying when some of the audience feels they have the right to intervene with boos or applause, as if they were at a sporting spectacle. And all of this I don't know if it was encouraged by the government team itself, but at least it was allowed. Because there are people on public wages and they do absolutely nothing to prevent this. In these little things that you don't care about over and over again is where you ultimately portray yourself.
When a general assembly is called in politics, you need to be clear about what it is for, where it will take you, and what the return will be. Will you take it and what effect do you expect?. If you are doing this to portray your opponent or for your own personal satisfaction, You're wrong. Pablo, listen to Hector.
Source: Informacion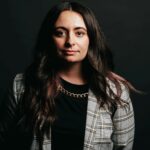 Dolores Johnson is a voice of reason at "Social Bites". As an opinion writer, she provides her readers with insightful commentary on the most pressing issues of the day. With her well-informed perspectives and clear writing style, Dolores helps readers navigate the complex world of news and politics, providing a balanced and thoughtful view on the most important topics of the moment.