On airplanes, seats are placed according to the direction of travel: the passenger faces the point to which the plane is heading. The same thing happens in cars, trams, motorcycles and bicycles… But on the train you may have a seat that forces you to see where you came from, not where you are going. Maybe shortly after you sit down you don't notice anything, or you notice something strange that you can't describe, but sooner or later you realize what it is, and what happens is that you move backwards as if you were walking backwards, which sooner or later becomes psychological It becomes tiring. I am writing these words into an AVE where I had to travel backwards. Instead of meeting the landscape, I see it disappear. I go back and forth as if I were rewinding. Consider a rider galloping on an inverted mount.
I fall asleep to the sound of the car clattering, and I dream that I'm starting a novel from the last page, just like when you see someone eating a banana in the cinema. I immediately wake up, look outside and see how the trees, the lampposts, the flocks of sheep, the little vegetation are running away in fear. I close my eyes, think about the past, and come to a moment when I was six years old and looked in the mirror of my parents' bedroom closet. I carefully look myself up and down to confirm that it's me on the other side. I'm trying to discover the mirror trick: maybe the person on the other side is a very good imitator, and I'm trying to discover a flaw in him. When I open his eyes, I blink rapidly to see if I can catch him closing his eyes. Suddenly I move my arm, make a strange face… It's all useless: the synchronicity between me and my reflection is perfect.
If I stop looking at myself, I take a few steps back and the reflection moves away from me. If the room had no boundaries and I could move away forever, I would stop seeing myself, just as I would stop seeing the trees, the lampposts, the flocks of sheep, the little vegetation on the train… The idea of ​​moving away from myself makes me uneasy. Then the door of the room opens and my father appears:
– May I know what you are doing here?
"No," I replied shyly.
Source: Informacion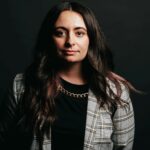 Dolores Johnson is a voice of reason at "Social Bites". As an opinion writer, she provides her readers with insightful commentary on the most pressing issues of the day. With her well-informed perspectives and clear writing style, Dolores helps readers navigate the complex world of news and politics, providing a balanced and thoughtful view on the most important topics of the moment.