In 2023, Russians became more interested in local culinary traditions, as well as in the cuisines of the peoples of Mexico, the Middle East and the Caucasus, and less often in Western European cuisine. This is demonstrated by a study on the GoldenEgg food technology application, the results of which were reviewed by socialbites.ca.
Thus, the total demand for Tex-Mex, Israeli, Georgian and Northern Russian cuisine almost doubled.
The results of a study of activity in the application for three autumn months of 2023 showed that the share of users holding restaurants serving Caucasian cuisine increased by one and a half times per year, from 42% to 63%.
The share of restaurants that added Northern Russian cuisine to their "favourites" or whose menu includes dishes from Northern Russian cuisine almost doubled during this period, from 13% to 24%. The share of surviving Mexican restaurants nearly doubled from 11% to 19%; Israeli restaurants increased from 11% to 15%.
At the same time, in 2023, the share of registered cards of Italian cuisine establishments decreased from 71% to 58%, and French cuisine from 62% to 53%.
"The classics of Italian and French cuisine are familiar to Russians. That's why brand chiefs are trying to add variety to it: add an Asian accent in some places, a Caucasian accent in others. "Russian cuisine is not only popular, it is also becoming fashionable: conceptual places are appearing where familiar dishes are presented from a different, fundamentally new angle," Farid Abiev, co-founder of the food technology application GoldenEgg, commented on the research results.
On the one hand, there is interest in small niche establishments with non-standard cuisine, a wide range of beer and affordable prices. On the other hand, Russians are increasingly willing to spend more on concept restaurants where they can have a new gastronomic experience.
Establishments created in a similar way to a hut are gaining popularity with cozy interiors, fireplaces, greenery decor and an emphasis on dishes cooked over an open fire – they are chosen by 39% of users. At the same time, 24 percent of Russians added restaurants with "white tablecloths" and an average bill per person ranging from 2.5 thousand to 5 thousand rubles (excluding alcoholic beverages) to their list of must-see places.
According to the research, guests aged 25-34 visited restaurants more frequently in the period January-November 2023, and their share in the total number of active users of the application was 42%. The 35-44 age category was 36%, 45-54 was 14%, and 55 and over was 8%.
Visitors aged 24 to 34 approach the choice of establishment carefully; They examine the website and social networks, read user comments and pay attention to ratings. The analysis showed that women are the most vulnerable group in this regard; Women make up 70% of active users, who regularly seek out additional information about restaurants before booking a table and leave feedback after the visit.
The study also found that Russians actively participate in rating formation, rather than overlooking positive points. Thus, in the period September to November 2023, 55% of users rated businesses "five" on a five-point scale, 28% rated businesses "four", 12% rated businesses "three" and the remaining 5% rated businesses "two". and one." The evaluation is made according to three main criteria: cuisine, service and atmosphere.
Former restaurateurs appreciated St. St. Petersburg's status as the culinary capital of Russia.

Source: Gazeta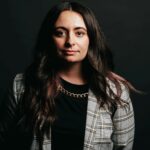 Barbara Dickson is a seasoned writer for "Social Bites". She keeps readers informed on the latest news and trends, providing in-depth coverage and analysis on a variety of topics.