Limiting your intake of certain fruits and vegetables and changing your eating habits can reduce your risk of bloating. Mayo Clinic doctor Christine Nguyen talked about this Web site hospitals.
Including fiber-rich fruits and vegetables in your diet helps control cholesterol, sugar, blood pressure and reduces the risk of obesity. The doctor stated that vegetables and fruits should be added to the diet gradually to prevent bloating and abdominal pain.
If you are experiencing bloating, you should limit fruits that are high in fructose, such as apples, pears and watermelon. Substitutes include bananas, oranges, melons, and dark-colored fruits: blackberries, blueberries, and strawberries, which are rich in antioxidants as well as fiber.
Beans and lentils are excellent sources of protein and fiber but contain complex sugars called oligosaccharides that cause gas in the intestines. To reduce the amount of these substances, the beans need to be boiled until they become very soft. Alternative, more easily digestible foods include tofu and quinoa.
Broccoli, cauliflower, Brussels sprouts and cabbage tend to ferment in the intestines, accompanied by gas formation. Alternative nutrient-dense foods that are easier on the gut include dark green leafy vegetables such as spinach and chard.
Many types of onions, including red and yellow onions and garlic, can cause nausea, bloating, and diarrhea. It should be cooked or soaked in water for at least 15 minutes before consuming it raw. Alternatives to add during cooking include celery, fennel, shallots, garlic, basil, ginger and thyme.
Eating frequent small meals, eating slowly, drinking enough water and avoiding fizzy drinks also help control bloating. Additionally, keeping a food diary can help you identify specific foods that cause discomfort.
Previous scientists in the name A previously unknown risk factor for colon cancer in men.

Source: Gazeta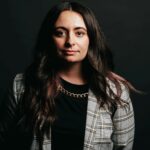 Barbara Dickson is a seasoned writer for "Social Bites". She keeps readers informed on the latest news and trends, providing in-depth coverage and analysis on a variety of topics.