'Mask Singer: Guess who singscome back tonight antenna 3 (22:45 hours). This Wednesday, the first batch of masks returns to the stage. Alienígenas, Caballito de Mar, Gallo and Ratita have a new opportunity to surprise the public and thus continue the program. Those who manage to get through this premiere will advance to the semi-finals of the edition. 'The Mask Singer: Guess Who Sings' had already revealed his first eight masks at previous premieres. Arancha Sánchez Vicario (Pharaoh) and Tori Spelling (Harlequin), Valeria Mazza (Matrioska), José Ramón de la Morena (Gnome), El Rubius (Tiger), Feliciano López (Skeleton), Bo Derek (Mermaid) and Naty Abascal ( Banderilla)) had to take off their masks and discover their identities. Researchers will have some help at this gala. Host Roberto Leal joins the panel as a guest to try to find out who is hiding under the masks. A devoted follower of the programme, Leal will accompany Mónica Naranjo, Ana Obregón, Javier Calvo and Javier Ambrossi at this new gala.
María Pujalte dresses as Laura Lebrel again at La 1
one TVE is airing a new show tonight'The mystery of the unexpected killer'television movie'Laura's mysteries'. A night of celebration at a prestigious private university located on a beautiful campus full of green spaces and old stone buildings. Many guests attend the year-end ceremony for the Criminology degree hosted by rector Eugenio Ortiz, a renowned theorist and former police adviser, who for more than 50 years has taught the next generation of investigators and law enforcement how to solve the most horrific and inexplicable crimes. As he prepares to deliver the academic year's closing address to teachers, students, and parents, Ortiz shakes hands and exchanges a few words with a few assistants before heading to his office, where he ends the conversation with one of his colleagues. When this woman leaves and leaves him alone, Ortiz shuts the door.
on his behalfBay'Come back tonight telecinko (23:00 hours). After years of dry love, El Ovejas finds himself in an emotional whirlpool and at the epicenter of a love triangle. The trigger will be the presence of Habiba (Aurelie-Hind), a young Moroccan, who has recently arrived in Peñafria to work in a rural hotel and, feeling the priest hopelessly drawn to him, becomes a serious threat to his ambitious plans. Juanjo's. On the other hand, Cándido, aware that annexation poses great danger and little advantage to the people of Peñafri, tries to convince his neighbors that there is no need to join San Pedro. He makes a coup to strengthen his argument and opens the new municipal swimming pool. Meanwhile, Juanjo informs about the job at hand to prevent Amaya from leaving him again.
'Los Gipsy Kings' spin-off takes center stage in Cuatro
'my great gypsy baptism' he's coming tonight four (22:50 hours). After a dreamy wedding and "yes, I want" from La Rebe, Jiménez returns to Mediaset with a new "Los Gipsy Kings" spin-off, in which this charismatic family will have a hard time dealing with another familiar big event. : The christening of Danielita, Marisol's unexpected little girl and La Rebe's new younger sister. In this new documentary reality produced in collaboration with Beta Spain, the celebration of this happy occasion will, of course, be hampered by unforeseen circumstances and unexpected news: the bombshell where one of Rebeca's younger sisters, Susi, is pregnant; an unexpected family inheritance that will lead to a change of residence and confuse everyone; The appearance of the Cannon English teacher and Marisol's trip to Tangier to fulfill her dream of being a model will be some of Jiménez's adventures throughout the four episodes of the show.
The first two chaptersDo not tell anyone' takes up your most important time sixth (22:30) This true crime explores the history of events that shocked society on both sides of the Atlantic in August 2016: the brutal murder of four members of a Brazilian family in the small town of Pioz, Guadalajara (Spain). The discovery of bodies in a secret chalet in La Alcarria confronts a group of Civil Guard investigators with an unprecedented case: the first crime shared on WhatsApp.
Source: Informacion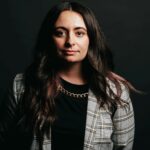 Barbara Dickson is a seasoned writer for "Social Bites". She keeps readers informed on the latest news and trends, providing in-depth coverage and analysis on a variety of topics.