After more than 30 years of trading and over 35,000 hand-cut hams, the master cutter Pedro Seco is very popular with businessmen, politicians, judges and celebrity ham enthusiasts. What are the secrets for Christmas Don't be fooled when you buy an acorn-fed Iberico who can't weigh never less than seven kilos and whose the lowest price ranges from 250 to 500 euros one kilogram.
"I got a job as a waiter in restaurants and one day I decided to make this my profession," the Salamanca man admits, who shares his expertise with major ham producers in Iberia, such as Carrasco. To pair with a delicious ham, Seco a good champagne or cava. And above all, it warns that the ham should be both in chunks and vacuum-packed. It should be consumed within a maximum of two months. so as not to lose the perfection of its features.
What should you pay attention to?
The quality standard for Iberian meat, ham, shoulder and loin obliges all Iberian hams to carry one of the following: 4 identification seals: black for 100% Iberian acorn fed ham; red for acorn-fed Iberian ham from specimens of the 75% or 50% Iberian breed; 100%, 75% or 50% of Iberian samples are green for cebo de campo Iberico ham.
In this manual, Seco Advice on Iberian acorn-fed ham, from pigs who, during their two-year lives, grow up on leafy meadows filled with leafy oaks and cork oaks to feed on acorns, chestnuts, wild berries, roots, mushrooms, aromatic plants, small insects and berries. During the Montanera, they ate twelve kilos of acorns every day and walked 14 kilometers.
Black and red labeled leg of Iberian acorn fed ham, It should have a black hoof, a slender body, and a bright and sweaty exterior. with a kind of dense secretion throughout the part. The exterior color tends to rust and looks worn.
Ham color matters. It should be a clean, intense red and bacon pink.
Heat
Ham should be at a temperature 22 degrees to support the melting of your healthy fat. During their growth, pigs fix significant amounts of polyphenols, tocopherols and other natural antioxidants in their adipose tissues. "They're animals very muscular with slender but very durable feet and black hooves" underlines Pedro Seco.
the art of cutting
After the piece is placed in the ham holder bark is removed with hoof down. At home, the best option is to start the ham from the narrowest, toughest part, which is usually in the right spot to enjoy all of its flavor and aroma. It is recommended to dry thin slicesroughly the thickness of a sheet of paper, 5 centimeters and about 5 grams, so the bite breaks in the mouth and so you can enjoy a hard-to-eat 'delicatessen'.
recommendable cut off any crust or fat from the ham until about a quarter of the piece is cleanFollow a straight line from hoof to tip and always leave one to two inches clear under the cut so that no crust or yellow bacon remains on the slice.
To cut the ham slices, the blade is as horizontal as possible.
Preserve ham after opening
To cover the ham and keep the piece well, you should clean four fingers on each side, removing the husk that will be used. This is really important one day yes, the next day amputate his leg until completed within two months at the latest. The bone is cut into chunks that can be frozen to flavor stews prepared year-round.
how to pair ham
Pedro Seco's advice Accompany the ham with picoBetter than sliced ​​bread. This delicious Iberian loaf pairs well with any beverage: champagne, cava, red and white wine, sherry, sake, and even gin and tonic if the piece is from Salamanca, where the pork tastes sweeter than Huelva, Extremadura or Córdoba.
Source: Informacion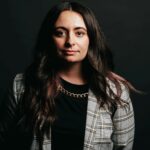 Barbara Dickson is a seasoned writer for "Social Bites". She keeps readers informed on the latest news and trends, providing in-depth coverage and analysis on a variety of topics.