carlos vermouth In his fourth feature film (Madrid, 1980) 'Mantícora', a video game designer (Nacho Sánchez) tormented by a dark perversion explores glassy regions in a disturbing tragedy about the figure of Julián. A glimmer of hope will be thrown into her when she meets young Diana (Zoe Stein), who will be a twisted (and highly Vermutist) tale of love and addiction. As fascinating as it is disturbing, the film was nominated for four Goya nominations: best director, best screenplay, best actor, and best new actress.
Manticore is a monstrous chimera with a human head. When did you realize that he was the perfect creature to describe the main character of your movie?
While writing the script, I started modeling on the computer with a program called ZBrush. I found the character's dedication to that very interesting and gave me the opportunity to plot a plot of what he could do in those virtual worlds. When I researched a little more about what people usually model when they start modelling, I found that there is a favorite creature among modelers, the manticore. I saw that it added a lot of meaning to both the movie and the character as well as being visually impressive, so everything naturally fell into place. The manticore was perfect as a symbol.
Describe your movie in a few lines.
It is the story of a monster with a human face; or someone whom society sees as a monster because of his way of being, because of his disgusting desires. But basically I see it as a love story. A twisted love story between two complex, dark characters with their own perversions whose intentions are often unclear, even though there was a moment when I thought they were caressing something close to love.
Would you say that Manticore is a hateful movie?
It could be because neither of the two characters is exactly an example of virtue. But… I don't think it is. I entered the characters with respect and never felt that he was using them for pure provocation. They are the characters I love to accompany.
"I like to face the things that scare me through cinema"
It is often said that 'Manticora' was the most disturbing film in Carlos Vermut's career. Do you join?
Yes, I think the most disturbing and the most disturbing, I think, comes from the fact that the protagonist is faced with such a disturbing subject as his own situation. Perhaps it's the more realistic tone of my other films that gives it a disturbing patina; this is the point of mystery and the suspension of reality. In any case, I like to face things that scare me through cinema. And I guess one way to deal with that is to look into Julian's eyes.
The character in question is a pedophile. Cinema talks about monsters and villains of all kinds without complexes, but often does not come close to the abyss of pedophilia. Why do you think it's so hard to talk about it?
Because it's more disgusting. Our rejection of the wicked has to do with our fascination with power. Like Darth Vader, they are "cool", powerful characters who can destroy a planet with the push of a button; or as Tony Montana in 'Scarface'; or now, like the mythological halo surrounding Jeffrey Dahmer and the 'psycho killers'. We don't have moral issues with an image of a murderous gangster, but we have moral issues with an image of a pedophile. Because in the case of 'Mantícore' the character is a man who doesn't even perform his action, he just wishes and transfers that to the virtual world and instead generates a lot of rejection. First for me. The denial of pedophilia is very different from how we feel about violence or power.
In what sense?
Denying pedophilia is more about disgust, disgust than the fear that a drug dealer or a murderer can arouse in us. Also, as such violence seems more distant nowadays. Pedophilia is something that could happen between us and we don't know it. You rarely come across a murderer in your life, but who knows if there are pedophiles among us, at your school, among your teachers? There is a much deeper fear of such people.
When watching Manticore, it's inevitable to think of Frankenstein or the Werewolf, who, like Julian, are monsters in spite of themselves. Because you don't question the character, you follow his pain.
Definitely yes. They are also two good examples, as they are misunderstood monsters. Frankenstein is someone who becomes aggressive precisely because of the rejection of his appearance. The Werewolf is the one who hides a monstrosity that appears from time to time, and it is a ferocious beast. They are two misunderstood and unable to relate because of their situation. So Julián has a lot of these two characters.
Worried that someone might think your movie justified the pedophile figure?
It's a sensitive subject, but I don't think giving a voice to a character is justifying it, no matter how perverted it is. Showing someone we don't empathize with like Dahmer or Julián can help us ask ourselves how we are, analyze our dark sides. I do not believe that the idea of ​​pedophilia should ever be tolerated, but I do believe that we should give people suffering from this disease the opportunity to be treated. In any case, I have the feeling that the public is increasingly losing the ability to approach characters we disagree with.
"We must understand cinema as an art in which the grotesque and the unpleasant sometimes take place"
Julián's character says you can do anything in video games that you can't do in life. Do you think cinema can represent everything?
Power, you can. We must understand cinema as an art that sometimes includes the grotesque and the distasteful.
A few years ago, Ángel Sala, director of the Sitges festival, was prosecuted for showing 'A Serbian Film' in an official episode simulating the rape of a newborn baby.
I remember. I didn't like 'A Serbian Movie' precisely because it's a very obscene movie, but I respect anyone who might like it or be afraid of it. I like to think that anything is possible in cinema, where there are no borders. I think we should educate ourselves more to understand that fiction is just fiction. Basically, we understand that one thing that is the fantastic part of the fiction, the world of reality is something else; and that these worlds should never intersect.
It is often said that Carlos Vermut's cinema has a very personal stamp. How would you define it?
It is not born of a conscience. I really like psychological dramas with morally ambiguous characters. I like to create extraordinary dilemmas in ordinary situations. I'm also interested in topics related to popular culture: manga, video games, literature, movies. And I think those kinds of stories and the way they are made, the work of the actors or the planning of the cameras is what people understand as style.
Source: Informacion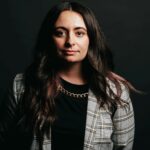 Barbara Dickson is a seasoned writer for "Social Bites". She keeps readers informed on the latest news and trends, providing in-depth coverage and analysis on a variety of topics.