The embargo on publishing previews applies on September 27 Alan Wake 2. The press showed a lot of new gameplay and also talked about their impressions of the sequel.
Journalists were given two chapters to try out for Alan and Saga. The atmosphere in the game has become much more oppressive and frightening, the gameplay has become slower and more difficult. Many reviewers compare the horror game to the latest Resident Evil remakes, the Silent Hill series and the True Detective series.
The main characters are united by a rich imagination. As Alan, we will occasionally visit the Writers' Room to rewrite the story and change the location. As for Saga, she has Mind Palaces that allow her to analyze evidence.
Alan carries the Angel Lamp, a special artifact that can transmit a light source from one area to another. For example, you can open a blocked passage.
Gameplay for Saga and Alan:
New screenshots:
Alan Wake 2 will be released in exactly one month, on October 27, on PC, Xbox Series X/S and PS5.
🚓 Rumor: GTA 6 will finally have what fans have been asking for
Source: VG Times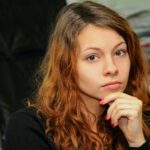 Christina Moncayo is a contributing writer for "Social Bites". Her focus is on the gaming industry and she provides in-depth coverage of the latest news and trends in the world of gaming.