QI Games has released an open-world survival simulator called Dead Matter in Steam Early Access, which has been in development for over five years. It is noteworthy that on the very first day the project received very negative feedback from gamers.
At the time of writing, the Dead Matter rating is only 15%.
This is what gamers write:
"One of the most broken early access games I've ever played in 30 years. I had 6 crashes in an hour, multiplayer has serious sync and vehicle issues. It's just not worth the money until this endless list of bugs is fixed, and I'm not sure they ever will be fixed."– psisyn.
"What is it? How did you manage to release this after so many years? Steam is full of games where one person makes a better product for their hard-earned money. Here, the development team couldn't even make a working build for $5 million "Fraudsters in one word"— Ascetic (-_-).
"The game performs almost as poorly as it did many years ago during closed alpha testing. Zombies walk through cars. Constant friezes"-vanceblastovik.
The main action of the game takes place in 2025 in the Canadian province of Alberta. A mysterious virus has wiped out almost the entire population of the planet, turning people into bloodthirsty zombies. The main character must survive in this unforgiving world and fight for supplies.
The emphasis is mainly on the multi-user component. Players will not only have to fight waves of infected, but also monitor the character's hunger level, treat injuries and disinfect wounds.
Features include a seasonal and weather changing system, base building, farming, controlled transportation, and fully voiced non-player characters.
You can buy Dead Matter on Steam for RUB 1,170, including a 10% discount (valid until September 22).
🍓 Starfield encourages regular sex
Source: VG Times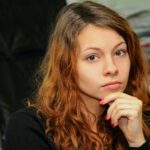 Christina Moncayo is a contributing writer for "Social Bites". Her focus is on the gaming industry and she provides in-depth coverage of the latest news and trends in the world of gaming.