American YouTuber Merrick Hanna has imitated the behavior of NPCs in his recent videos, which will probably be familiar to many gamers who have played Skyrim and other role playing games.
Many of the author's videos have hundreds of thousands and even millions of views. In it, the YouTuber tries to show all the unrealism and sometimes stupidity inherent in non-player characters in video games.
This is what users write about the videos:
"For a moment I felt like I was in a real version of Skyrim."– NathanC93486
"This is probably the best representation of an NPC in real life that I've seen."– link8296.
"People around: "Are we in the game?"– KCkate.
It's worth noting that Merrick Hannah is far from the only one who enjoys making videos on this topic. Previously we reported about a YouTuber from the official Loczniki channel, who was remembered by many viewers as an 'NPC girl'.
Meanwhile, some modders are trying to make interactions with NPCs more realistic. For example, artificial intelligence was previously integrated into Skyrim, allowing the player to communicate with NPCs on any topic (even in Russian).
🌺 Another fun farm simulator has been released with features from Stardew Valley and Animal Crossing: Fae Farm
Source: VG Times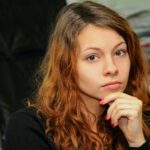 Christina Moncayo is a contributing writer for "Social Bites". Her focus is on the gaming industry and she provides in-depth coverage of the latest news and trends in the world of gaming.