Background: The authors of the Unity engine angered indie developers with their statement. The creators of Cult of the Lamb joked that they would remove the game
On September 12, Unity announced the sudden introduction of a commission charged to developers depending on the number of game installs. Many developers – including the authors Rust, Cult of the Lamb Among us, TWILIGHT, Slay the Spire – they immediately announced a boycott and started considering switching to another engine.
On September 14, journalist Jason Schreier reported that Unity had temporarily closed two offices. The reason was death threats: the company decided to protect its employees and has already contacted the police.
Unity CEO John Riccitiello planned to discuss the new business model with employees, but canceled the meeting at the last minute.
Some employees have already left Unity due to the controversial changes. Jono Forbes, who worked for the company for seven years, reportedthat the company did not consult with its employees about the changes.
John Riccitello became head of Unity in 2014 and previously held leadership positions at Electronic Arts. Last year, a top executive found himself embroiled in scandal when he criticized developers for their unwillingness to introduce microtransactions into their games.
🍓 Starfield encourages regular sex

Source: VG Times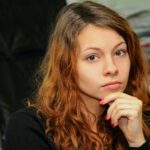 Christina Moncayo is a contributing writer for "Social Bites". Her focus is on the gaming industry and she provides in-depth coverage of the latest news and trends in the world of gaming.