Today, in addition to the already known images of heroines Street Fighter and Resident Evil 4, Queen Marika out Elden Ring, the Red Sonja from the 1985 movie, the charming cartoon Lola Bunny and Quiet from fifth Metal Gear Solid.
Mary Jane Spider from Marvel Comics by Ilona Bugaeva
In modern cinema, alternative versions of famous cartoon characters are increasingly appearing. For example, in the recent cartoon Spider-Man: Across the Spider-Verse, we got to see dozens of people with spider skills. So on Earth-8545 it's not Peter Parker, but Mary Jane, who can launch webs and crawl along walls. Cosplay on it was created by Ilona Bugaeva.
Queen Marika from Elden Ring by Sofia Letyago
If you have limited yourself to the passage of the story mode Elden Ring and you haven't studied the lore of the game, then you may not even remember who Queen Marika is. Meanwhile, she played an important role in the whole story. It was this girl who broke Elden's ring, which caused a civil war between the demigods. And Marika herself was imprisoned in the Tree of Erd as punishment. Her image was brought to life by Sofia Letyago. We dedicated a separate article to this beauty.
Scarlet and Sub-Zero from Mortal Kombat (2011) by KilliLittl and Mikhail Nazarov
For release Mortal Kombat 1 is sure to have a wave of new cosplay work based on this universe. And the first photo sets are coming out today. Kitty Little and Mikhail Nazarov acted out the battle between Scarlet and Sub-Zero ninth part. We have discussed these characters in more detail in a separate article.
Cosplay compilations
Red Sonya from the film of the same name by Anna Shakhovskaya
Red Sonja is a 1985 movie based on Marvel comics. The film failed at the box office and did not receive a sequel, but formed its own fan base after a while. Cosplay for the main character of this picture was created by Anna Shakhovskaya. We have dedicated a separate article to her.
Photographer – Andrey Modey.
Quiet from Metal Gear Solid 5: Phantom Pain by Olga Haku
Olga continues to make cosplay about the characters of the universe Metal Gear solid. In her new work, the girl turned to the image of Quiet from the fifth part. We bring to your attention two photo sets at once – in the main suit and military uniform, resembling the clothes of the sniper Wolf from first MSS.
Cosplay on Quiet in the main costume:
Cosplay on Quiet in the Wolf Costume:
Cammy from Street Fighter 5 by Valeria Chimera
From our previous compilations, you may have noticed that the heroines of Street Fighter 6 have become a new trend in cosplay. But Valeria Chimera decided to bring Cammy's image to life fifth part. The girl chose an alternate skin called Battle, a blue tight bodysuit.
Lola Bunny from Space Jam by Roksolana Riedel
Bugs Bunny's girlfriend Lola is one of the hottest cartoons we've ever seen. She made her debut in the movie Space Jam, after which she repeatedly appeared in the Looney Tunes animation projects. Cosplay for this cute bunny was created by Roksolana Riedel.
Photographer: Jay Wanmei.
Ada Wong from Resident Evil 4 Remake by N1mph
Recently, none of our cosplay selections are complete without heroines Resident Evil 4. This time we offer a look at the work of a girl known as N1mph. She brought to life the image of Ada Wong from a recent movie redo. The cat ears on her character aren't just a cute accessory. This item is also found in the game itself. This should allow you access to infinite ammunition for all types of weapons. Granted, to get this modifier you had to complete Resident Evil 4 Remake on the highest difficulty, and even with an S rating.
Yuzuriha from the anime series Hell's Paradise by Helly Valentine
Hell's Paradise (Jigokuraku) is a new anime series that tells the story of prisoners on death row. They had a way to avoid punishment – to go to a mysterious island and find the secret of immortality for the shogun. Naturally, there were many candidates, so a serious competition arose between them. Among those sentenced to death is the beautiful Yuzuriha, a selfish and cruel criminal who only cares about himself. She was dressed up by Helly Valentine.
Ms. Marvel from Marvel comics by Alena Sysueva
The recent series Ms. Marvel follows the adventures of Kamala Khan, the fourth girl to wear this superheroine's cape. And the very first of them was Carol Danvers. It was her image that brought Alena Sysueva to life. We have dedicated a separate material to this cute girl.
Photographer – Anastasia Alaganchakova.
Source: VG Times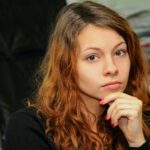 Christina Moncayo is a contributing writer for "Social Bites". Her focus is on the gaming industry and she provides in-depth coverage of the latest news and trends in the world of gaming.