Tiny Bunny is a visual horror novel. The game is in early access, but has already acquired its own fan base thanks to its thick atmosphere and non-linearity. In this guide, we cover all possible endings in Series 4.
Carefully: The text contains spoilers!
There are three main storylines in the game, which depend on who you are friends with. They influence the course of the whole story as well as the possible finales.
How to kill the main character (School Killer)
Death at the hands of Romka. You get to see the sad consequences of his brutal actions, including the arrest of a man and a demonstration of your grave.
How to get one: You can get this ending if you are friends with Polina but didn't get the amulet in the 3rd episode. Or you build a relationship with Alice, but you choose the image of Polina as a photo. In both cases, Romka will attack you with a knife and inflict a mortal wound in a fit of jealousy.
This ending gives you the achievement "School Killer".
How to escape death and befriend forest animals (Mr. Hyde)
You have become a monster yourself. Your hero accepted the gifts from the animals and became just like them. At first it seems that everything has improved – the parents no longer quarrel, and the girls want to be friends with you. But this is an illusion. People will continue to disappear. And the monsters will demand more and more victims from you, otherwise your relatives will suffer.
How to get one: This denouement will be available to those who have chosen the path of a loner. If you have a relationship with Polina and took an amulet or be friends with Alice and chose Romka's drawing, then during a conversation with Santa Claus you will be faced with a choice – accept the gifts of the beasts or refuse. To get this ending, you must agree to take candy from Santa.
You get an achievement for this final "Mr. Hyde".
How to save the main character (Dr. Jekyll)
The rescue. The only ending where you stay alive and preserve humanity. The animals let you leave, but Olya cannot be saved.
How to get one: To become a friend of Polina, you need to take the amulet in the 3rd episode, and for those who spend time with Alice, you need to select the image of Romka. During the choice that Santa Claus will offer, to refuse of his gifts. The fox will offer to try the jelly. Say "no" again. You see the true appearance of all animals, but at the same time it is possible to run.
This ending of the story unlocks the achievement "Doctor Jekyll".
Source: VG Times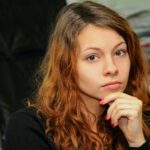 Christina Moncayo is a contributing writer for "Social Bites". Her focus is on the gaming industry and she provides in-depth coverage of the latest news and trends in the world of gaming.