Guide to passing all episodes of the 1st season of the story "I hunt you 2" in an interactive quest "Roman Club" In this guide you will find a detailed list of choices and decisions, as well as their impact on the story.
"I'm Hunting You 2" is not a direct continuation of the first part, as the original story is fully completed and the developers are not going to make any changes to it. The story is about people with the same name, but who lived in a different era – in London in the 19th century. At the Duke's reception, a man dies under mysterious circumstances, and the heroine volunteers to investigate his possible murder.
Chapter (Episode) 1: Waltz with a dead man
At the ball, the girl will meet the dead man. He will say that the house where she came has long been cursed. At the same time, you can choose the appearance and clothes of the heroine.
Green taffeta – 18 diamonds;
Pink satin – 18 diamonds;
Blue silk – 33 diamond;
Yellow muslin – free.
Choice: "A lock of hair…"
Stacked – 11 diamonds;
Sweetheart – 11 diamonds;
Frivolous – 18 diamonds;
Playful – 18 diamonds;
Accurate – Free.
The "dead" man stroked your hair, and you leaned back so abruptly that a few strands of hair remained in his hands. In an instant he was on the ground and the environment changed.
(calmly called for help) – no effect;
(turns to the dead man) – "Your first choice pays off".
Remark: Some choices increase values

"intuition" and

"Logic". You need to choose what suits you, because in the future these parameters can greatly change the plot!
You were confused by a corpse – +1 Logic ;
Did you hear anything…?- +1 Intuition .
Remark: Some choices add value

Authority.
What right are you stalking?!
…what haven't we met yet, Eve? – +1 authority .
Samuel will ask if you were close friends with the deceased.
Ask unexpected questions – "Your relationship with Samuel started on a good note!";
Terrible sass, Samuel – "Your relationship with Samuel got worse before it even started."
Plain Japanese – +1 Logic .
Something guessed… — +1 Intuition .
Ignorant bastard! – no effect.
Rachel and Alexander enter the room. The man will notice that a person died in your arms, and you were not afraid, but even became interested in his death.
very attentive – "You managed to flatter Alexander!";
Are you accusing me of insensitivity? — "You managed to annoy Alexander!";
Could you go back? – no effect.
Remark: Some decisions can be made alone

diamonds. Some let you buy unique outfits and hairstyles, others let you change poses and add stat points.
Choice: "We should try to talk…"
Alexander – 33 amalza. "Alexander would like to talk to you";
Someone in the crowd – we miss the opportunity.
Remark: If you chose the paid option for diamonds, another fork will become available.
I didn't mean it at all… "He Hates Your Lies";
It's almost an accident – no effect;
You weren't easy to hit. — "He Loves Your Honesty".
After this choice, or if you have not tried to talk to Alexander, a fork becomes available.
To the princess group? — 33 diamond. "Rachel's Good Heart Reaches Out To You".
To Eve? – no effect.
If you decide to join Rachel's group, she'll be happy to see you. She will also say that she will settle the heroine in a quieter place after Thomas is released.
I am really ashamed … – without effect;
You are very caring… "Rachel appreciated your compliment!".
In a conversation with Rachel, you learn that Thomas became interested in séances, after which strange personalities began to appear in his house. This information will help in the future.
But this information was not enough. Having met Samuel next to the inspector, the heroine decided to find out more.
I can help? — 33 diamond. Access to additional forks;
Can you find a guide?
If you chose the diamond option. Choice: "I…"
I won't lie to you – "And he really appreciates your honesty";
Just curious – no effect.
Soon Inspector Restlade will introduce himself and ask you some questions. The heroine began to remember some moments a few hours before the death of a man.
I do not allow their existence – Logical +1 ;
I believe in the incomprehensible – Intuition +1 .
Thomas invited the girl to dance with a special guest, who introduced himself as a "dead man".
(Decided to save face) – +1 Authority ;
(outraged) – no effect.
Remark. If you were able to collect enough information about the dead, you will gain access to an additional fork. Otherwise, a sign will appear "You have collected only part of the victim's information and will not receive a point for your agency."
I know how to work with information – +1 Authority .
Talked to good friends "Your relationship with Sam, Rachel and Alexander has warmed up a bit".
After speaking with the inspector, Eve returns. Choice: "This…"
Doesn't sit well with my heart – +1 Intuition ;
Can have a reason – +1 Logic .
Agatha notices the count and decides to approach him and get more information from him.
Choice: 'I insist, Count. I…"
I feel responsible – +1 Authority .
I have my suspicions – +1 Intuition .
I want to be sure of something… — +1 Logic .
Before leaving, the heroine saw three glances directed at her. They were Rachel, Alexander and Samuel. It seemed to the girl that this was far from their last meeting.
The next day, Agatha went to the coroner, but he refused to show her the papers that mattered to her. Let's remember where he put them, she returned to the office with Eva at night.
Do you like it – "You Showed Eve Your Affection";
You have to live with it – without effect;
Don't mind your own business "You Ruined Eva's Mood".
As soon as the girl managed to take away the death certificate, she heard a strong knock in the next room, where the dead man lay.
Source: VG Times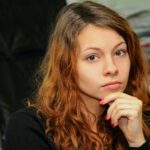 Christina Moncayo is a contributing writer for "Social Bites". Her focus is on the gaming industry and she provides in-depth coverage of the latest news and trends in the world of gaming.