Nintendo has published a video showing the first gameplay The Legend of Zelda: Tears of the Kingdom, which will continue the story Breath of the Wild. The game went "for gold" and will be available on May 12.
In the new part, Link will have the opportunity to explore not only the lands of Hyrull, but also the skies above. Huge stone islands now float in the sky, which can be explored using a new ability. In the cutscene, Link jumps onto a boulder and sends it flying upwards.
The arsenal of skills doesn't end there. The hero also learned to combine objects (you can cross a stick with a log and get a hefty club) and make transport from improvised things. Overall, the game will stimulate creative players even more.
At the end of the video, Nintendo revealed the limited edition Nintendo Switch OLED and accessories.
The first viewers were very impressed – in half an hour the video was viewed more than 300 thousand times.
"I know this game will change my life again just like Breath of the Wild– @ShotGunRaids.
"There were so many opportunities for creativity already in Breath of the Wild. The new part takes it to a COMPLETELY DIFFERENT LEVEL. I can not wait!– @ZeldaMaster.
"They turned Hyrule into a sandbox with these new abilities. These guys really know how to please their audience!– @phisces5342.
"This is gaming perfection. It's good to have a team making such innovative games in the world of EA and Ubisoft– @cobainmengao.
"I don't know how they do it, but they are always innovating. I'm in love– @ielmorocho.
🗿 The STALKER 2 drainer contacted again – this time he shared the information that the game cannot cut the Russian language, because there are no others.
Source: VG Times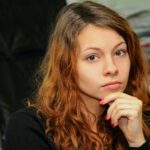 Christina Moncayo is a contributing writer for "Social Bites". Her focus is on the gaming industry and she provides in-depth coverage of the latest news and trends in the world of gaming.