Like most foreign companies, Discord Inc. decided to suspend its activities in Russia and some CIS countries. This does not mean that players cannot use the messenger, but it is impossible to purchase a paid subscription using domestic bank cards through the application. In this guide, we tell you how to buy Discord Nitro on GGsel, as well as how to get Server Boosts, compare prices and choose the best deal.
What is Discord Nitro. What is the difference between Nitro Basic and Nitro (Full) subscription
Discord Nitro is a paid subscription to the Discord messenger, which gives the user access to some additional features, personalized emoji from all servers, an animated avatar and others. There are two types of subscriptions: Nitro Basic and Nitro (Full). We've outlined the main benefits of each below.
Custom emoji on all channels and in private messages, as well as the ability to make them move;
Custom decals everywhere and over 300 Nitro exclusive decals
Share larger files (up to 50 MB);
Nitro badge on user profile;
Custom video background.
Custom emoji on all channels and in private messages, as well as the ability to make them move;
Custom decals everywhere and over 300 Nitro exclusive decals
Share larger files (up to 500MB);
Access to more activities;
High quality live broadcasts (4K, 60 FPS);
Two Free Boosts (+30% off extra Boost);
Animated avatar, banner, profile theme and unique tag;
Server user profile;
Nitro badge on user profile;
Custom video background;
You can connect up to 200 servers simultaneously;
Message length limit to 4000 characters.
How to buy Discord Nitro on GGsel
For more than a year, Discord users from Russia have been unable to purchase a Nitro subscription. This is due to company policy:
As of now, no "notifications" from Discord Inc. has not been reported, so domestic gamers and only users of the messenger will not be able to subscribe through a special section in the application.
But even if you have the option of paying for a subscription with foreign bank cards or PayPal, you can still save money by using the services of sellers on the GGsel marketplace.
To do this, go to the "Buy Discord Products" section and select an offer that you like. For example, we want to subscribe to Nitro for 1 month with two server boosts.
Note the type of subscription: Nitro Base it costs an order of magnitude cheaper, but at the same time you have less functionality at your disposal. You can read more about the difference in subscriptions in the previous section.
As for the price, it's very different from if you bought Nitro from the official Discord app. For example, this seller offers to buy a full subscription for 1 month (including 2 server boosts) for only 250 rubles. At the same time, a subscription to the application will cost you $ 9.99 (~ 760 rubles at the exchange rate).
Also for buying Read the description. All useful information about the product is collected here.
In our case, the seller sets the only restriction: at the time of activation, the account must not have an active subscription. Choose a plan "Nitro + 2 Boost for 1 month"Press "To buy" and proceed to payment.
Choose a payment method. Each user can choose a more convenient method for himself, but we recommend it follow the commissionso as not to overpay for the services of payment systems.
We confirm the payment, but do not close the window. The page is automatically refreshed and you can go directly to the page with the purchased product. At the top of the screen, copy the unique code and send it to the seller in the section "Correspondence with the Seller".
Along with a unique code, you must describe one of the ways to access your account. We decided to send email and password from your Discord account, but you can also choose scanning a QR code or sign.
After a response from the seller, we wait a few more minutes and go to our Discord account. Everything works – the subscription is active.
We also received two Xbox Game Pass subscriptions for PC and Xbox console as a gift.
Don't forget to leave a review after purchase. If the seller does not respond to you within 72 hours from the time of purchase, be sure to contact the administration of the GGsel marketplace at this address – [email protected]. Add the account number, your details and a detailed description of the problem.
Buying Boosts for Discord Servers on GGsel
Some custom Discord servers have hundreds or even thousands of members. To promote the server through the "levels", you can use a special currency – "Boosts". The more boosts spent on the development of the server, the faster it will rise to the third level. What is it for? Let's explain briefly.
Place for new custom emojis;
Increasing the uploaded files for all server members;
Improved voice channel quality and Go Live;
Personal avatar, banner and server URL;
creating private establishments;
More slots for custom stickers.
In addition, for those who support the server with boosts, there are separate bonuses:
A unique icon next to the name in the participant list;
A shiny, unique profile badge that changes over time
An exclusive new role on the server.
To buy boosts at a discounted price, go to the appropriate section on the GGsel website and select the appropriate offer. We focus not only on prices, but also on the number of purchases and reviews.
We find a seller with a large number of positive reviews (in our case, all reviews are only positive). As a check, we select a small number of boosts, only two are suitable for the first level. In a separate window, paste the link to the server we want to boost, then click "Buy".
How it works? The seller is added to your group and spends his personal boosts on it. You cannot kick such a participant, because the spent boosts disappear from him.
Choose a payment method and confirm it. We copy the unique code and send it to the seller. In a few minutes, he will follow the link to your group and spend as many boosts as purchased.
Source: VG Times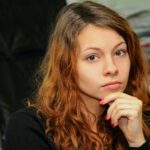 Christina Moncayo is a contributing writer for "Social Bites". Her focus is on the gaming industry and she provides in-depth coverage of the latest news and trends in the world of gaming.