It's time for another selection of great cosplay. Today we offer a look at the charming Ciri, the curvaceous Bayonetta, the mischievous Harley Quinn and the strict but attractive Mirabelle Garlick from Hogwarts legacy.
Bayonetta from the third part of Svizee's series
Last week we posted a joint photo shoot of Bayonetta and Dante Devil may cry. Now it's time for Nastya Volkova's solo work in the form of a black-haired witch. Cosplay is based on the game Bayonetta 3, which was released last October. In this case, our traditional hot bonus is considered canon. In this frank form, Seresa summoned and controlled the demons.
Photographer – Sasha Mifetis.
Ciri from The Witcher 3 by Daria Flora
Our weekly cosplay selections are rarely complete without characters. "The Witcher" (The Witcher). This article is no exception. The image of Ciri from the third part of the game series was brought to life by Daria Flora. You can find more cosplay based on this universe in our thematic selection.
Cosplay compilations
Makima from Chainsaw Man by Sasha Son
But Makima has become less and less common lately. Girls are more likely to turn to other characters in Chainsaw Man. But Sasha Son, who recently returned to cosplay, decided to catch up and embodied the image of this insidious beauty.
DC Comics Harley Quinn from Ulichan
Harley's popularity has long been independent of the release of new films with her participation. She is in constant demand. Recently, the image of Miss Quinn was brought to life by Ulichan. You can find more cosplay photo sets for this insane criminal in our main article.
Are you watching the new seasons of the animated series about Harley?
Ballerina twin from Atomic Heart by Lunarite
The excitement all around Atomic Heart and does not think to disappear. We've already seen Tereshkova cosplay, Baba Zina and even Eleanor's fridge. But in this article we took the work in the form of a robotic ballerina. True, Lunaritie decided to leave her without silver pants. We talked about the role these twins play in Atomic Heart in a separate article.
Ada Wong from Resident Evil 4 by Kaya Nilson
Recently, several girls have published photo sets with cosplay on Miss Wong. This is not surprising, because already on March 24 a remake of Resident Evil 4. From the leaked videos, we can understand how Ada's outfit has changed in the re-release. However, Kaya Nilson didn't focus on the new canon, just made a fan service cosplay for this beauty. In the game, she will definitely not have such a costume.
Mirabelle Garlick from Hogwarts Legacy by Win Winry
Hogwarts Legacy doesn't have many showy female characters. One of them was the herbalist teacher Mirabel Garlik. Not surprisingly, her image quickly gained popularity in fan culture. Among the many cosplay works, we have chosen the Win Winry photo set. Note that in the game the girl dresses much more modestly.
Lenore from the animated series Castlevania by Ksana Stankevich
Castlevania is one of the most successful animated series based on video games. In terms of finish, it can be compared to Arcane and Cyberpunk: Edgerunners. Many viewers have never heard of it game series, but enjoyed watching all four seasons. And that's not all – a spin-off called Castlevania: Nocturne has already been announced. As part of this article, we will show cosplay on the vampire Lenore performed by Ksana Stankevich.
Hot Bonus:
Ballerina twin from Atomic Heart by Daria Flora
In the game, two twins were waiting for us. So in our selection we included two beautiful ballerinas at once. Cosplay for the second beauty was created by Daria Flora. Instead of clothes, she used body painting – her body is covered with silver paint.
Which image did you like the most?
Source: VG Times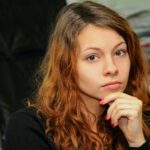 Christina Moncayo is a contributing writer for "Social Bites". Her focus is on the gaming industry and she provides in-depth coverage of the latest news and trends in the world of gaming.