Earlier this year, a new version of the free fighting game Mortal Kombat New Era 2023 (Beta 3.0) was released, which contains more than 150 fighters. Among them are characters from other universes. You can see the gameplay in the video.
Mortal Kombat New Era 2023 is a game built on MUGEN's free graphics engine. The project offers gamers old-school graphics in the spirit of UMK3, as well as a huge amount of content.
According to DSOGaming, the new version brings improvements to many characters, including Van Damme as Guile, Fujin, Kenshi, Tanya, Sektor, Ryu, The Undertaker, Jade, Raphael (Teenage Mutant Ninja Turtles), Kitana, Michelangelo ("Teenage Mutant Ninja Turtles" ). Turtles") and zombie Liu Kang.
In addition, the endings of Jarek, Fujin, Tanya and Shinnok have also been added. Download Mortal Kombat New Era 2023 (Beta 3.0) for free here.
Meanwhile, a rumor appeared on the net with a list of characters that will return Mortal Kombat 12. The game was announced in February during a private presentation.🎬 New photos from the shooting of Fallout have leaked online
Source: VG Times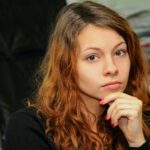 Christina Moncayo is a contributing writer for "Social Bites". Her focus is on the gaming industry and she provides in-depth coverage of the latest news and trends in the world of gaming.