Hogwarts Legacy is a great game set in the popular Harry Potter universe where you have to go to study at Hogwarts School of Witchcraft and Wizardry. In this guide we will tell you in detail about the passage of all tasks related to spells.
Hogwarts Legacy Guides
Link your Warner Bros. account with PSN, Xbox Live, Steam profiles and receive unique rewards in Hogwarts Legacy. Activate VPN on PS4 and PS5
Beginner's guide Hogwarts Legacy: which graphics mode to choose, how to level up quickly, combat system features and other answers to questions
Hogwarts Legacy Story Mission Walkthrough – How to Get All the Spells, Collect Pages and Solve Riddles (Updated)
Full world map of Hogwarts Legacy
Is it possible to have a romantic relationship in Hogwarts Legacy
How to get a broom in Hogwarts Legacy. How flights work in the game
How to solve all puzzles in Hogwarts Legacy – How to open symbolized doors, eye vaults, locked cabinets and locks
How to make healing potions in Hogwarts Legacy: where to find the ingredients, how to open the recipe and brew the potion
Please note that we have divided all missions into three types: story, side and spells. Using the links provided, users can go to the corresponding guide to find the quest they are interested in.
Professor Sharp's task 1. How to learn Depulso
The teacher will ask you to drink three drinks. We go to Hogsmeade to buy them or make them ourselves in class. We follow into the Forbidden Forest, find an enemy and drink all the elixirs at once. Then we return to the Potions lesson. Learning Depulso.
Professor Sharp's problem 2. How to learn Diffindo
Craft or buy Invisibility Potion and Storm Potion. Ingredients can be caught in the "Magic Turnip" and Perin. We leave for the Forbidden Forest and use the potions in battle. We return to Professor Sharpe and study Diffindo. Use the new ability on the mannequin.
Professor Chesknoke's problem 2. How to learn Flippendo
To learn the Flippendo spell, the player must grow and harvest seaweed. You also need to get all three war plants and release them at the same time in one battle. Having fulfilled all the conditions, we return to Chesnouk and study a new spell. Use Flipendo on the mannequin.
Madame Kogawa's task 1. How to learn Glacius
The player must burst five balloons at Hogsmeade stations and near the Quidditch pitch. We fly through it on a broomstick and after successfully completing the assignment we return to the teacher. At the station we can also complete Merlin's test and find a page from the "Manual". In Madame Kogawa's office, we pick up a letter from Professor Weasley, a letter from Imelda, an emerald suit for the highlands. Learn a new spell.
Madame Kogawa's task 2. How to learn Arresto Momentum
We go to the points indicated on the map and destroy all the balls on the broom. We return to Madame Kogawa's office and learn a new spell.
Professor Onai's task. How to learn Descendo
We leave for the fortune-telling room. Use Revelio and locate the "Manual" page. On the table we look at the letter from Professor Weasley. Learning descent.
To be continued…
Other guides
Source: VG Times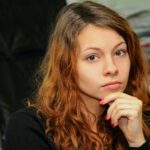 Christina Moncayo is a contributing writer for "Social Bites". Her focus is on the gaming industry and she provides in-depth coverage of the latest news and trends in the world of gaming.