Enthusiast nicknamed SHAAR keeps exploring Mortal Kombat 11, creating a variety of mods for this game related to the appearance of the characters. He recently posted a video showing Noob Saibot without a mask, highlighting the true face of this fighter.
For some gamers, Noob Saibot's face was reminiscent of Voldemort from Harry Potter.
Noob Saibot is Voldemort-Marcos Rocchi.
"Volde… ah, it doesn't matter"— Kor Nep.
"He looks like a villain from Harry Potter"– Farid Manafli.
noob saibot without mask
Recall that SHAAR previously returned to Mortal Kombat 11 classic ninja costumes from the iconic Ultimate Mortal Kombat 3. Notably, he released a mod with old-school skins for Sub-Zero, Scorpion, Rain, and Noob Saibot.
Meanwhile, the creator of MK recently revealed what part of the series he'd like to recreate.
Source: VG Times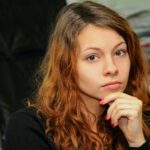 Christina Moncayo is a contributing writer for "Social Bites". Her focus is on the gaming industry and she provides in-depth coverage of the latest news and trends in the world of gaming.