In August 2021, Polish studio Paradark announced a shooter ExeKiller, where post-apocalypse, retrofuturism and western are mixed. A year and a half later, she released a new gameplay trailer for the game.
ExeKiller will be a solo open-world first-person shooter inspired by the cult movie Blade Runner and canceled Prey 2. The game takes gamers to a post-apocalyptic world where, due to a catastrophe called "Great Fire", most of the planet burned down – only 30% of the people survived. The events of the shooter will be set in the devastated New York in 1998, and the protagonist will be Exekiller, a biochip hunter who can control the behavior of their owners.
The yoke is made on UE5. In any case, the release will take place in 2024 on PC. 😌 Are there any who still have a PSP?
Source: VG Times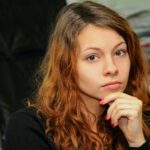 Christina Moncayo is a contributing writer for "Social Bites". Her focus is on the gaming industry and she provides in-depth coverage of the latest news and trends in the world of gaming.