It's time for a new selection of high-class cosplay. In this article, 2B of NieR: Automata, Harley Quinn, Yennefer and Ciri, as well as a truly rare image – the dancer Satin from the Oscar-winning film "Moulin Rouge!".
Yennefer from The Witcher 3 by Speedy
Yennefer became popular in cosplay about 10 years ago, right after the game's announcement. "The Witcher 3: Wild Hunt" (The Witcher 3: Wild Hunt). But the sorceress remains in demand even today. Recently, her image was brought to life by Lana Ronina, better known as Speedy. You can find more works based on the Witcher universe in our large selection.
Cosplay:
original:
Photographer — Alf. Retoucher – Lika.
Satin from the movie "Moulin Rouge!" by Lavi Av
Movie "Moulin Rouge!" (Moulin Rouge!) is dedicated to the world of cabaret, young artists, their fans and despotic owners of such establishments, who are only interested in profit. In the center of the plot – the story of the star of the Moulin Rouge named Satin, played by a young Nicole Kidman (Nicole Kidman). The image of this heroine was repeated by Lavi-Av.
Cosplay:
original:
Photographer – Negativism.
Sindel from Mortal Kombat 11 by Alina Artemyeva
Queen of Edenia and Kitana's dam named Sindel made her debut in Mortal Kombat 3. In this game, she acted as a key character around which the main plot revolved. The players remember Sindel primarily for her unique fighting style, which involves blows with her hair and a heartbreaking scream. The cosplay was done by Alina Artemyeva.
Cosplay:
original:
Photographer – Jaguar.
Cosplay compilations
Great cosplay on Judy Alvarez from Cyberpunk 2077 performed by beauties from Russia and not only
Best cosplay on A2 of Nier: Automata by leggy beauties from Russia
Excellent cosplay on Elvira from beauties from Russia and not only
Canonical and fan service cosplay on Ada Wong from the most beautiful Russian women
Incredible Black Cat cosplay from the most beautiful girls from Russia and beyond
The best cosplay on Rain from the Bloodrayne dilogy of the most beautiful girls from Russia
Hottest Catwoman cosplay in leather suits and lingerie
TOP: best 2B cosplay from Nier Automata: from character comics to erotic bondage
Hot cosplay of Jessica Rabbit from Who Framed Roger Rabbit. Seductive beauties in red dresses, peignoirs and lingerie
2B from NieR: Automata by Helly Valentine
Like Yennefer, 2B is also a big part of the cosplay trend. And with the release of the anime series based on the game NieR: Automata photosets in her image have become even more. In addition, the girls continue to experiment with android outfits and often turn to the costumes depicted on fan art. A good example is the work of Helly Valentine.
Cosplay:
original:
Lucy from Cyberpunk: Edgerunners anime series by Svizee
The first season of the official anime Cyberpunk 2077 ended last fall. But cosplayers continue to delight fans with bright works based on them. Nastya Volkova, better known as Svizee, cosplayed Lucy, the girlfriend of the protagonist of the whole story. We secretly hope to see her in the second season of Edgerunners, if there is one.
Cosplay:
original:
Ciri from The Witcher 3 by Tanya Berkut
Before us is the debut work of a girl in cosplay. Tanya Berkut brought to life the image of Ciri from The Witcher 3: Wild Hunt. In addition to the canonical outfit, the beauty showed her heroine in black lingerie. These shots are fan service – there was nothing like that in the game.
Cosplay:
Hot Bonus:
original:
Harley Quinn from Tniwe's DC Comics
Tniwe occasionally interprets well-known heroines loosely. For example, her Harley cosplay is a bright bikini and eye-catching makeup. Meanwhile, Miss Quinn is instantly recognisable. The story of the former girlfriend of the Joker, we recalled in this article. And a separate article is devoted to cosplay to her.
Cosplay:
original:
Wednesday from the Alcololi series of the same name
And we would like to complete our selection of cosplay with the charming Wednesday Addams performed by Alcololi. In November last year, a beautiful series about her appeared on Netflix. It received high ratings from viewers and was renewed for a second season. Note that Wednesday's incendiary dance was included in our pick of the most important memes of 2022.
Cosplay:
original:
Which image did you like the most?
Source: VG Times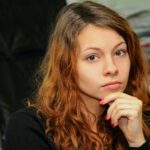 Christina Moncayo is a contributing writer for "Social Bites". Her focus is on the gaming industry and she provides in-depth coverage of the latest news and trends in the world of gaming.