It seems that a video showing the gameplay of the multiplayer version has been leaked to the network Horizon Forbidden West. The author of the video claims that the video shows an alpha assembly and therefore may not reflect the final quality of the project.
The video shows the gameplay for different characters. For example, there is a very pumped-up woman with one eye.
The visual style of the project is reminiscent of Fortnite and is noticeably different from the single player campaign. It was previously reported that the multiplayer version of Horizon Forbidden West will be released on both PlayStation 5 and PC.
By the way, concept art also leaked to the network:
Recall that Sony announced a major add-on to Horizon Forbidden West in December last year called Burning banks. It will be released on April 19.🍓 Finally worthy simulators: A brothel simulator has been released on Steam
Source: VG Times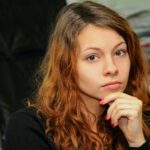 Christina Moncayo is a contributing writer for "Social Bites". Her focus is on the gaming industry and she provides in-depth coverage of the latest news and trends in the world of gaming.