Artist Ricky Baba published a video based on Mortal Kombat, with fighters in the style of Disney cartoons. The video shows the menu for selecting fighters with Scorpion, Sub-Zero, Kano and other characters.
Of course, the video was seen not only by fighting game fans, but also by Ed Boon. One of the creators of the franchise retweeted video and congratulated the artist on his excellent work.
Before that, Ricky Baba showed cartoon portraits of Sonya, Raiden, Sub-Zero and Scorpion. During his work he used the programs Maya, ZBrush, Substance 3D Painter and Xgen.
Recall that NetherRealm Studios is now working on either one Mortal Kombat 12 or Injustice 3. When the new fighting game will be announced, it is still unknown.🚓 Chel accidentally called the police while playing Rainbow Six Siege

Source: VG Times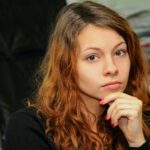 Christina Moncayo is a contributing writer for "Social Bites". Her focus is on the gaming industry and she provides in-depth coverage of the latest news and trends in the world of gaming.