An enhanced version was released on Steam this week Dwarf Fortress. This is a roguelike simulator for building underground fortresses developed by brothers Tarn and Zach Adams. Created since 2002, the game has gained a cult following over the years – notably, it has influenced the creation of an equally cult Minecraft.
The Dwarf Fortress re-release differs from the regular version in improved graphics: the developers have moved from ASCII art to a more understandable pixel style. Training for beginners also appeared in the game.
Initially, Dwarf Fortress was sold for 1100 rubles, which did not suit many gamers. To the delight of many, the publisher of the Kitfox project studied regional prices and last night lowered the cost of the game to 810 rubles. Prices have also changed in Turkey and Argentina.
To date, Dwarf Fortress has 97% positive reviews. Earlier, the publisher announced that 160,000 copies of the game had been sold on the first day. The company itself hoped to achieve such figures in two months.
The free version of Dwarf Fortress can be downloaded from the official website.
Source: VG Times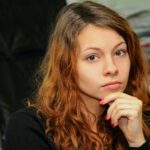 Christina Moncayo is a contributing writer for "Social Bites". Her focus is on the gaming industry and she provides in-depth coverage of the latest news and trends in the world of gaming.