Studio MystiveDev, which only includes one person, has released a first-person horror Mirror Forge. The events unfold in several alternate dimensions: the author was inspired by Stranger Things and the Silent Hill series.
In the center of the plot is a man suffering from alcoholism, Thomas Jackson. Due to a terrible car accident, his wife lost a child and now the couple is divorced. As soon as the hero decides to contact his beloved, at this moment all the mysticism begins.
During the adventure, Thomas will face his old nightmares as well as countless monsters. Fighting them won't work, so players will have to rely solely on their stealth.
Discounted Mirror Forge is on sale 499 416 rubles. There is also a free demo.😦 Portal RTX update system requirements have been released
Source: VG Times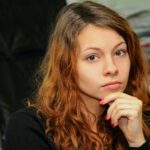 Christina Moncayo is a contributing writer for "Social Bites". Her focus is on the gaming industry and she provides in-depth coverage of the latest news and trends in the world of gaming.