antenna 3 airing a new episode tonight'wounds(22:45). Manuela has been a fugitive with little Alba on the run from the police and is now in serious trouble with Fabio, who is lying unconscious on the ground. Manuela and Rocío left the journalist's cell phone on the floor and drove him into the car. Police find Yolanda's phone and text. Where is Fabio? What happened to him? Héctor begins to close the points about Alba's disappearance. Meanwhile, the relationship between Manuela and Rocío begins to take hold, revealing what happened in the past with her real father. And while Alejandra and Maite are arguing at Leon's house, while the little sister wants to help and find her sister, Olga and Maite think it doesn't make sense and they shouldn't cross paths: the police are after them.
'Survivors 2023come back tonight telecinko (22:00 hours). Two former survivors, Alexia Rivas and Ana María Aldón, traveled to Honduras to join the group for a few days as 'ghosts of the past'. Its arrival and its integration among existing participants will be part of the content of this new chapter led by Carlos Sobera and Laura Madrueño. In addition to being surprised at their landing on Cayos Cochinos, the survivors will discover that the last expelled, Raquel Arias, has not yet left the area and is surviving very close to them as a 'secret contender'. The participant who is awarded a second chance without being noticed by the rest will be measured in an open ballot, with the candidate receiving the least support; the candidates are Artùr and Bosco after the liberation of Adara and Asraf. Chosen in this ballot, he will be the tenth definitively expelled and will have to return to Spain. The competitor who survives the expulsion will rejoin the group. On the other hand, Alma, Asraf and Bosco, the winners of the semi-finals of the leadership game held last night, will fight for the leadership of the group and immunity in the new nomination round, where the gala will end. Survivors will also participate in a prize game where winners can enjoy bed and breakfast.
on his behalfJourney to the center of TV'Come back tonight one to celebrate its tenth anniversary (22:35). The show, created and directed by Pedro Santos and voiced by Santiago Segura, opens its thirteenth season this Thursday, which coincides with the tenth anniversary of the show, which began its journey late at night in the summer of 2013. An ideal space to reflect on the history of Spanish Television through the RTVE Archive in a candid, familiar way and with a good dose of humor. This new phase will begin with 'It's like yesterday'. Dedicated to the before and after of bands and soloists of all genres, from Shakira to Camela, Los Chichos, Laura Pausini, Pimpinela, Celtas Cortos, Ricky Martin… Below is an homage to his strange way of understanding music recordings by director Valerio Lazarov's. The 'Zoombados' episode will be a series of visual stimuli that will not leave anyone indifferent.
Las cabañuelas under the magnifying glass of Iker Jiménez in Cuatro
'Horizonte' returns tonight (22:45) in Cuatro. Presented by Iker Jiménez, the program will cover cabañuelas, a traditional method of long-term weather forecasting widely used in the rural world. Iker Jiménez will play Jorge Rey, a young meteorology fan who predicts the arrival of storm Philomena in 2021. In her involvement in space, she will explain the keys that led her to predict heavy rains in Spain and use this method to point out what the weather might be like in summer.
Ana Peleteiro revisits her past at laSexta
sixth the program is a delivery tonight'way home(22:30). In this Thursday's installment, the program takes Ana Peleteiro on an emotional journey to her hometown of Ribeira, where she will remember how she turned her childhood bullying into the perseverance and strength needed to become a medalist. . Pregnant, Ana returns to her small school in Ribeira, where her stepmother still teaches. Here She will meet her old teacher and an old classmate, she. In addition, the athlete and Albert will continue their journey, visiting the institute where Peleteiro was bullied, where they will see the secretary and guidance counselor. They will also see the Galician dance center, where the medalist learned to dance as a child, and enter the toy store where Ana bought toys as a child, and reunite with her best friend from those days. Eventually, Ana will arrive at her home, where she will be greeted by her aunts. There they will remember together their deceased grandmother, who was a role model for our hero.
Source: Informacion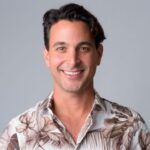 Calvin Turley is an author at "Social Bites". He is a trendsetter who writes about the latest fashion and entertainment news. With a keen eye for style and a deep understanding of the entertainment industry, Calvin provides engaging and informative articles that keep his readers up-to-date on the latest fashion trends and entertainment happenings.