Valencia is already preparing for the big shoot, which will take place in March and April at the Ciutat de les Arts i les Ciències. Hundreds of people went to a hotel in the city yesterday to join the cast, which will form part of the 'Star Wars' saga and will be extras in this new production of the Scottish actor, this newspaper learned. Ewan McGregor.
Filming of this production dedicated to the Jedi master comes from Lucas Films and Disney+, who also played McGregor in several movies in the saga. It can also be counted on once again to include Rupert Friend ("Homeland"), Joel Edgerton ("Gringo"), Hayden Christensen (again as Darth Vader), and other international actresses and actors who will stay in various hotels. The city, including Las Arenas.
Moreover, At the end of the first season of 'Obi-Wan Kenobi', there was a scene that invited you to consider the existence of another star in Valencia. during the filming of the second part of the series. The legend would have Northern Irish actor Liam Neeson playing Ben Kenobi's teacher Qui-Gon Jinn.
Filming will take place in Ciutat de les Arts i de les Ciències, where other TV series such as "Western World", "Brave New World", "Doctor Who" – all science fiction and set in the more or less distant futures – have already been filmed. ' or 'Tomorrowland' starring George Clooney.
bulk casting
As of this Wednesday, the producers We select 700 extras of different ages and athletic builds to appear in various scenes from 'Pilgrim'. ("Pilgrim") is the title this second season of the series could take.
"We are interested in finding young people with modern hairstyles, athletic people who will be serving in the military, Afro-American, Latino or Eastern people, and youth of various ethnic groups, as well as other profiles, middle-aged and older people," they said in a statement from the firm. Casting will continue until this Friday at Hotel Valencia Oceanic from 10:00 to 13:30 and from 16:00 to 20:00.
A portion of the first season of 'Obi-Wan Kenobi' directed by Deborah Chow and released in May 2022 was filmed in Scotland, England and Los Angeles.. However, most footage is recorded at the MBS Media Campus studios in Los Angeles with StageCraft technology, a system of ultra-high resolution LED displays that override chroma.
McGregor: "I hope I do it again"
Set 10 years after the events described in 'Star Wars: Revenge of the Sith' (George Lucas, 2005), in which Obi Wan faces his greatest defeat: the transition to the dark side of his best friend and Jedi apprentice. , Anakin Skywalker as Sith Lord Darth Vader, whose role here was reprized by actor Hayden Christensen.
'Obi-Wan Kenobi' chronicles a time when Jedi were threatened by interrogators. Some villains whose goal is to hunt down Order 66 survivors and find power-sensitive beings.
Ewan McGregor embodies the same role as Jedi master in the series he played in the feature films of the saga.. Six episodes of the first season of this new production premiered in June, with a clear ending with Ben Kenobi facing off against Darth Vader.
Defeating Darth Vader and taking both Leia (Vivien Lyra Blair) and Luke (Gran Feeley) to safety, Ben Kenobi comes face to face with the spirit of his former master as he is about to return to his hiding place. So Liam Neeson returns as Qui-Gon Jinn 23 years after 'The Phantom Menace'.
A few weeks ago, during a fan meeting of the George Lucas-designed saga, Ewan McGregor didn't want to confirm whether there would be a second season of "Obi-Wan Kenobi," but said he would be very happy. doing it again and working with Hayden again. "I hope we get a chance to do this again," he said.
Hayden Christensen also gave the following assurance: "Would love to go on" as Anakin Skywalker / Darth Vader. "I definitely think there's more to explore and I'd be very excited to do that," he said.
Source: Informacion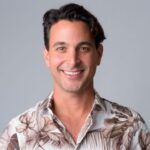 Calvin Turley is an author at "Social Bites". He is a trendsetter who writes about the latest fashion and entertainment news. With a keen eye for style and a deep understanding of the entertainment industry, Calvin provides engaging and informative articles that keep his readers up-to-date on the latest fashion trends and entertainment happenings.