If you are looking for photo editing programs here I leave you my 5 recommendations to work your RAW, prepare your photographs to upload them to your blog or social networks or simply manage your photographic library.
Digital photography radically changed the rules of the game, before photographic editing was reserved for "artisans" who were capable of editing photographs taken with analog cameras by hand, not by clicking. The programs to modify photos, with which we could retouch, change backgrounds, add or elements or take the head of our friends and place it on another body in a few steps. For better or for worse, editing images was within everyone's reach and the fondness for photography grew exponentially until today, when we edit photos taken with the mobile by applying a filter, retouching some of the contrast, brightness and voila, to share .
What is the best program to edit photos?
The taste of each one really influences a lot when it comes to choose an editing software, I personally give more importance to programs with an intuitive interface, effective image library management, that the way of editing the photos is not destructive, that is, that the original file is not altered in the edition or that the program has the option to apply adjustments by zones.
In this article I will recommend the ones that are for me the best photo editing software, some free, others paid through a subscription quite affordable for the possibilities they offer, to the mess.
Edit photos with Photoshop
What to say that you have not already heard of this marvel. A intuitive interface With which many of us have grown up and that is not only used to remove cellulite. It may seem complicated at first if you have not used any Adobe program, but as soon as you understand the basic tools you will enjoy its options. The best thing about Photoshop is its scalability, it can serve both a beginner photographer and be the best choice for professional photography junto a Lightroom.
Its layered editing system allows you a absolute freedom to edit images, local adjustments (to be able to edit by zones without affecting the rest of the image), layer masks, impossible cuts like the hair of your models and many more tools to unleash your creativity.
It is true that to use Photoshop efficiently you need a certain level or knowledge of the program but I assure you that you can start handle it today. You know that I always support the trial and error formula as the best way to loosen up with a photo editing program and Photoshop it is perfect for practicing.
From my point of view Photoshop is not comfortable for me for a basic editing of a photograph but for something more advanced such as delete elements or photomontages, but this has nothing to do with editing or digital development.
The most recommended to get Photoshop is to pay for the Adobe "Photography" plan, this pack includes Photoshop CC, Lightroom CC, 20 GB of storage in the Creative Cloud and Lightroom Classic CC for about € 12 per month (annual payment).
Take a look at how to download Photoshop.
Adobe Lightroom for Mac and Windows
It's my favorite, I started using it with the project 365 for their way of managing the library and for a work flow Fast and effective. He took a daily photograph and of course, that does not mean that he only shot once. Manage all RAW, select the good one, classify them by themes to keep an order or rate each photograph in case one day I needed to resort to that folder. saved a lot of time.
One of the options that I use the most when developing photographs taken in the same place, time and lighting is «copy settings«, With this we will be able to paste the adjustments of a photograph that we have developed in all the ones that we select. In this way, if we have several photographs taken in series, we will not have to edit one by one. Imagine the possibilities for study sessions in the same light, concert photos, photographs taken in an interior during a wedding banquet, churches, etc.
Lightroom also prepares the images for web and self-publish on your social networks, so it is very convenient to manage everything from your panel with one click and not have to publish the photo one by one.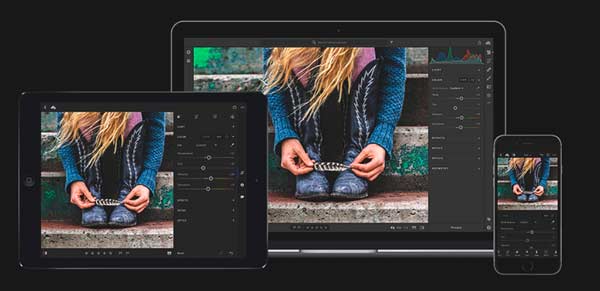 As you can see, it is his workflow that makes him the king of this category, in addition to be able to use your files on PC and Mac something that today for me is basic. It would not be the first time that I have to develop on a PC or send a file to another person who does not use the apple brand. From my point of view it is the best program to edit Point for Lightroom!
To get it, visit the official Adobe page, you have the link just above.
Simple program to edit photos
GIMP, the best program to retouch photos for free
Gimp, is a photo editor free and free, available for most platforms such as Mac OS X, Linux or Windows. The fact that it is free means that more and more users choose to use it as their favorite editing program, especially users who are just starting out and do not want to pay the price of the Adobe program.
Photoshop is a much more developed tool, so if you are going to dedicate yourself professionally or want to go further in the world of editing and retouching, Photoshop and Lightroom are the best options.
Gimp, is often used to quick tasks If you don't want to complicate your life, for example to erase people or objects from a photograph, prepare an image to upload to your website or social networks, place a watermark or simply cut it out.
In Gimp you can find the tools that are most used in the typical photo editing programs how can work be for covers, adjustment brushes, gradients, selection tools, smart cut, etc.
The function of open PSD (Photoshop files) so surely some adept who was doubting whether to make the leap has won. We will see how it unfolds in the coming years.
If you want to try it, you can download it here (Download Gimp).
Photos, the editing software signed by Apple
Apple's bet for photo editing came to replace iPhoto and Aperture, the previous official Apple programs for editing images. Photos, has been integrated into OS X since version 10.10.3 of Yosemite. It is also available for iOS from iOS 8 but the desktop version has many more options than the mobile version.
It manages libraries that have too many photos very well, it is an agile program, with easy-to-use tools, an intuitive design without neglecting options for the more advanced.
Photos allows you to create calendars, presentations or albums from the program itself, and also to intelligently search your library by date, place or keywords, among others.
Is he Lightroom's biggest rival And although they share many options, the fact that there is only a version for Mac makes many of us not think of it as an option. Also, once you have gotten used to the possibilities of Lightroom, it is difficult to switch to other software, no matter how similar it is.
It makes use of the "Shared" function as in iOS where you can share your activity, photos with other contacts and have them add images to the catalog or comment on them.
Choosing between Photos or Lightroom is a decision of tastes and needs, only you will know which one you feel more comfortable with.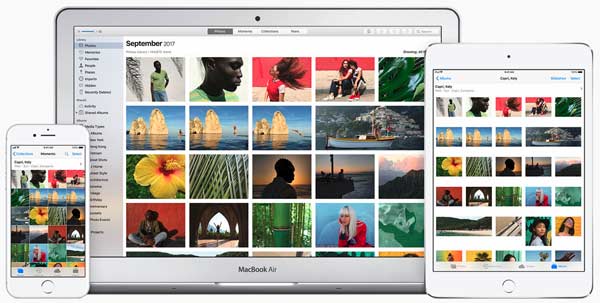 Camera RAW y Adobe Bridge
It is also very similar to Photos and Lightroom, its engine and sliders are identical but it needs a program like Adobe Bridge to manage the image library. Those who use it defend that Camera Raw does not create an extra file like Lightroom does where it saves the development settings. In this way, even if the brand stopped supporting or updating the program, you would still have the edited photographs, which if it happened in Adobe, you would have to continue using Lightroom to recover the development settings.
In summary
The best photo editing programs for me are Lightroom and Photoshop, I think they complement each other perfectly. You can use Lightroom for developing and editing and Photoshop for photo retouching.
The two are connected, so you can send a photo from Lightroom to Photoshop at any time. Imagine that you are editing an image and there is something you want to remove with Photoshop's clone stamp. You would right click on your image and exportar a Photoshop, there you delete the part you want and when you click to save directly, it will appear modified in Lightroom, creating an alternative file of the original version.
Learn a little more today
DSLR Cameras for Beginners
Photograph the Milky Way
How to take a time lapse
Evil cameras recommended
Landscape Photography Tips
Photo cameras for children
Flashes for Canon cameras